Return to: GFrecipes.com
---
Chestnut Information and Chestnut Flour Recipes
Page Contents:
---
Books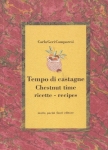 Chestnut Time by Carla Geri Camporesi. The book is all on chestnuts. It has 140 recipes and many of them are based on chestnut flour. It is from Italy and opposing pages are in Italian and English. The copy I saw was imported into the US by Kitchen Arts & Letters in NYC. It is now plentiful and reasonably priced on the used book market.
The Chestnut Cook Book: Recipes, Folklore and Practical Information by Annie Bhagwandin is the best chestnut book that is widely available. The cookbook represents some of the meals from many cultures, from China to North America. Included also is basic storage, processing, and nutritional information. It also contains history, tales, and stories of the chestnut. The only complaint is the typeface is cumbersome and makes it a particularly laborious read.
The Chestnut Cookbook (Hamlyn Cookbook Series) [Unabridged]. Over 45 recipes using chestnuts, chestnut puree, or chestnut flour: soups, vegetable dishes, stuffings, puddings, candies, baked items, and holiday specialties. Note: not every recipe is gluten-free. Full-page color photos accompany many of the recipes. It is now plentiful and reasonably priced on the used book market.
---
Links
---

Le Bruciate
-----------
"Chestnuts roasting on an open fire...." goes the song, but if you don't 
know how to roast them you'll cast them back into the coals in disgust. 
Your greengrocer will likely have two kinds of chestnuts: castagne, 
run-of-the-mill chestnuts, and marroni, larger, gloriously meaty chestnuts 
that can be an inch or more across. While good castagne will do for boiling
and such, you will want marroni for roasting.

Pick them over carefully, taking only those that are firm and whose skins 
are a rich glowing brown. If they smell moldy, look blotchy, feel light, or
have pin-holes, pass them by.

Before roasting the chestnuts, make a cut in the round side of each, to 
keep them from exploding. Out in the country people still use terracotta 
vessels that resemble colanders to roast chestnuts over the coals, but if 
you are doing them over the stove you will want a chestnut-roasting pan, 
which looks like a skillet with holes punched in its bottom (if need be you
can make a pan youeself, by purchasing a cheap skillet and punching holes 
through it with a thick nail). Put the chestnuts in the pan, sprinkle them 
with water, cover them, and set the pan over a medium flame. Shake the pan 
frequently and continue roasting until the skins are blackened and have 
pulled back from the meat where you cut into them; this should take 5 to 10
minutes (charring means you didn't shake the pan enough). Wrap the hot 
chestnuts in an old towel, squeeze them hard to crush the skins, and let 
them sit wrapped for five minutes. Open the towel and enjoy: The nutmeats 
will be deliciously soft, sweet, and will go wonderfully with vin novello.

From: Roasting Chestnuts


---

Castagnaccio (Chestnut cake)
----------------------------
600g chestnut flour
3 tbsp extra-virgin olive oil
Salt
70g raisins
40g pinenuts
40g walnuts
Rosemary

Sift the chestnut flour into a mixing bowl and gradually add 800ml of
water, whisking continually to avoid lumps forming, until you have a smooth
paste, neither too runny nor too thick, but forming ribbons when it falls
from the spoon. Soak the raisins and squeeze out the excess water. Add two
tablespoons of oil, a pinch of salt, the raisins, pinenuts and shelled
walnuts to the batter. Pour the mixture into a shallow, greased baking tray
(the cake should only be about 1cm high), sprinkle some rosemary leaves on
top and drizzle a tablespoon of oil over. Put in the oven for thirty
minutes. Leave aside for about half an hour before serving as the cake
should be eaten either tepid or cold. For many centuries chestnuts were
part of the staple diet in mountainous and hilly areas and for the poorer
classes in general as they provided an inexpensive form of nutrition. The
original, Florentine version of castagnaccio, which is also known as
migliaccio (black pudding) in some parts of Tuscany, had only pinenuts in
it. This recipe is a combination of traditional recipes from both Pistoia
and Lucca which I find slightly tastier.

© Copyright by Edizioni La Mandragora
From: The Art of Cookery: Traditional Italian recipes and wines from 
Florentine & Tuscan cooking

Author's site: ArtOfCookery.com/chestnutcake.htm

The book is very inexpensive Florence: The Art of Cookery.


---

Castagnaccio Alla Toscana (Tuscan Chestnut Cake)
------------------------------------------------
This classic Tuscan dessert is not very sweet and, unusual for a dessert,
is flavored with rosemary and extra virgin olive oil.

10 1/2 oz chestnut flour
2 tbsp pine nuts
2 tbsp dried raisins soaked in warm water
walnut meats (optional)
fresh rosemary (to taste)
salt
tepid water
extra virgin olive oil (possibly full-bodied in flavor)

Sift the flour into a bowl and add enough tepid water to make a fairly
liquid batter, using a whisk to prevent it from forming lumps. Add 3 tbsp
olive oil and the raisins and mix well. Grease a low 12-inch cake pan and
pour the batter into the pan. Garnish with pine nuts, chopped walnuts and
rosemary, and a drizzle of oil.

Bake at 365 degrees F. for about 40 minutes until it is dark but not too
dry. Some cooks make the cake richer by using milk instead of water, by
soaking the raisins in sweet Vinsanto dessert wine, by adding sugar, or by
frosting with whipped cream.

The cake should be served warm, with a sweet dessert wine.

From: The Italy Italy Kitchen Recipe by Giusi Gallo
http://www.ari.net/italy/Recipe/recipe6.htm [now dead]


---

Autumn Chestnut Cake
--------------------
If you feel like baking, here's a good one to try. Delicious, especially
when it's nice and fresh and maybe still pretty warm.

1/2 cup of raisins
6 cups of chestnut flour
5 cups of water
12 tablespoons of extra virgin olive oil
a pinch or two of salt
1/2 cup pine nuts
4 fresh rosemary sprigs, chopped fine

Soak the raisins in a bowl of water. Set aside for one hour. Preheat your
oven to 450 F. Mix flour, water, 4 tablespoons of olive oil and salt to
form a creamy dough. Add 6 tablespoons of pine nuts and all the chopped
rosemary into the dough. Pour 8 tablespoons of olive oil into two 11 inch
tart pans (don't use the kind that have a removable bottom, unless you want
a big mess!) Add the dough on top of the oil. Drain the raisins and
sprinkle the dough with the raisins and the rest of the pine nuts. Bake for
20 minutes, until you see the top of the cake begin to crack. Pour off any
excess olive oil. Serve warm.

[Mama's Cookbook]
From: www.eat.com/cookbook/desserts/autumn-chestnut-cake.html [Archive.org]


---

Castagnaccio (Chestnut Crust)
-----------------------------
1 lb. chestnut flour
4 Tbs. sugar
pinch salt
3 Tbs. olive oil
1 Tbs. grated orange zest
4 Tbs. soaked squeezed raisins
2 Tbs. pine nuts
2 Tbs. coarsely chopped walnuts
milk, as needed

Sift the chestnut flour, add the sugar and a pinch of salt. Add 2 pints
cold water in a thin stream beating constantly with a whisk so that lumps
do not form. Add 3 Tbs. oil, orange peel, raisins, pine nuts and walnuts.
Add warm milk little by little until you achieve a stiff consistency. Pour
the batter into a greased pan large enough so that the mixture is 1/2"
thick. Dribble on some oil. Bake in a preheated 400° F. Oven for an hour.
Serve warm or cold. It can also be served with whipped cream.

VARIATION: Fennel seeds can be used in place of walnuts 

From: cucina.italynet.com/ricingl/dati/499.htm [now in Archive.org]


---

Veal, Carrot and Chestnut Ragout
--------------------------------
Chestnuts are harvested in the area around Alba and figure
in many savory and sweet dishes there, particularly stews
like this ragout. Gathered after they have fallen,
chestnuts are traditionally served with game, but they also
pair well with veal-another staple of northern Italian
cuisine. If fresh chestnuts are unavailable, roasted
vacuum-packed chestnuts-sold in jars in the specialty foods
section of many supermarkets-can be used. Supply crusty
bread for soaking up the juices. Accompany with a radicchio
and escarole salad, and uncork a Barolo.

18 fresh chestnuts

2 1/2 pounds veal stew meat, cut into 2x1-inch pieces
4 tablespoons olive oil

1 1/2 cups chopped onion
1 1/2 tablespoons chopped garlic
1 bay leaf
2 1/2 cups canned low-salt chicken broth
3/4 cup dry white wine

6 medium carrots, peeled, cut into 1-inch pieces
3 tablespoons chopped fresh sage

Preheat oven to 400 deg. F. Using small sharp knife, cut an
X in each chestnut. Place in roasting pan. Bake until
tender and shells loosen, about 35 minutes. Cool slightly.
Remove hard shell and papery brown skin from each nut. Set
nuts aside.

Pat veal pieces dry with paper towels. Sprinkle with salt
and pepper. Heat 2 tablespoons oil in heavy large pot over
medium-high heat. Working in batches, add veal to pot and
cook until brown on all sides, about 10 minutes. Using
slotted spoon, transfer veal to large bowl.

Heat 2 tablespoons oil in same pot. Add onion, garlic and
bay leaf. Reduce heat to medium; cover and cook until onion
is tender, stirring occasionally, about 5 minutes. Stir in
broth and wine. Add veal and any accumulated juices from
bowl. Bring to boil. Reduce heat. Cover; simmer 45 minutes,
stirring occasionally.

Add carrots to stew. Cover and cook until carrots are almost
tender, about 25 minutes. Uncover and cook until meat is
very tender and liquid is reduced to thin sauce
consistency, about 25 minutes longer. Stir in nuts and
sage. Simmer until nuts are heated through, about 3
minutes. Discard bay leaf. Transfer ragout to bowl.

Serves 6.

Bon Appetit, October 1997.

---
Return to: GFrecipes.com